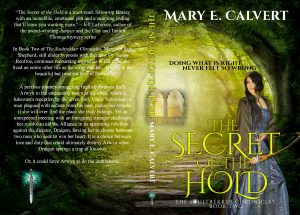 It is my great pleasure to announce the release of 
The Secret of the Hold, 
Book Two of 
The Soultrekker Chronicles!
 The ebook will be available on Amazon by January 25th and the paperback early next week! See what Jeff LaFerney, author of the award winning 
Jumper 
and the Clay and Tanner Thomas mystery series, has to say: "The Secret of the Hold is a must-read, follow-up fantasy with an incredible, emotional plot and a stunning ending that'll leave you wanting more." Thanks to everyone who encouraged me and kept asking about the second book in the series. After months of delays that were beyond my control but nevertheless important, the wait is almost over! To celebrate, I'm doing a drawing to give away one free paperback for every ten new subscribers to my newsletter! So sign up today, here on my website! Winners will be announced on January 27th.