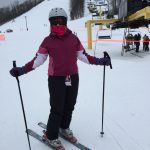 Over Christmas break, my family ventured up north to Bellaire, Michigan for a long ski weekend. Since moving to the Midwest from Colorado nearly three years ago, we had long held out against what we feared would be disappointing ski conditions after being spoiled for so many years by the glorious powder of Colorado snow. And, as it is rumored that several Michigan slopes are actually built on old landfills (gasp!), going through the immense effort of suiting up the boys, loading up the car with skis, boots, helmets, and poles, and then paying for all those lift tickets hardly seemed worth it. But when friends of ours suggested we all spend a few days together on the ski slopes up north, we knew it was time to take the plunge and discover for ourselves what Michigan skiing is really all about.
A brief history of my rise to skiing prowess:
It's not that I'm a ski snob. After all, my ski career started in humble circumstances—in the mountains of North Carolina. Funny, because I was also born in the mountains of North Carolina, which just proves that good things start there. Twenty-some years later, I found myself back in those same mountains at Cataloochee ski area, donning those awkward, uncomfortable ski boots for the first time.  I was with my boyfriend at the time, also a beginner skier, and after about an hour or two on the bunny slopes, believed we were ready for the chairlift.
The one thing I failed to understand was that there was a drop-off point mid-mountain for all the beginner skiers, the place where I was expected to unload myself from the chairlift and GET OUT OF THE WAY before the next group either unloaded or continued on to the top of the mountain where the expert ski trails were. Say what?
Before I knew what was happening, my boyfriend leapt from the chairlift and went crashing onto the ground, me watching helplessly as he flailed about, a tangle of skis and poles, appearing smaller and smaller as I continued my ride up to the top. For a moment, I panicked. I glanced down at all those expert skiers below me, and suddenly the slope appeared to be at least an 80 degree incline. I was going to die!
Then it occurred to me: surely I could simply ride the lift down to the bottom of the mountain. No worries! I breathed a sigh of relief. And then I started noticing that all the chairs coming back down the mountain were—empty!
The higher the chairlift climbed, the more panicked I became. I had practically worked myself into a frenzy when the top of the mountain came into view. The drop-off point approached. I froze. I knew nothing else to do but to start screaming: "I can't ski! I can't ski!"
Once more, I watched the drop-off point pass me by, and with that the ski lift came to a screeching halt. By this time I was dangling about 10 feet above the ground and two burly men who ran the top of the lift scrambled out of their nice, cozy shelter to come to my rescue. I begged and pleaded for them to let me ride the lift back to the bottom, but they would hear nothing of it. They had their rules. I'm not exactly sure how they got me down (I think I was slipping in and out of consciousness at this point), but I think it involved some rope and a ladder.
I'm certain they were chuckling to themselves as they watched me, skis and poles flung over my shoulder, as I started back down the mountain on foot. If you've ever tried to walk in ski boots, you know how not-fun that is. Add to that being pummeled by snow-making machines, and I arrived at the bottom of the mountain looking like a red-faced snowman.
You would imagine such an experience would have made me think twice about ever attempting any mountain more daunting, but it only fueled my desire to conquer the art of shushing through the snow with the greatest of ease. The next winter, I graduated to the big time—Colorado!—the first of several ski trips out west I would take with my friends, Tom and Kathy, and several others who started out as acquaintances but quickly became good friends.  My friend Tom, being a Florida native, had hardly ever experienced snow before, much less put on skis, but when I mentioned that Kathy and I and some others were taking a trip out west, he said, "Cool! I'm in!"
Looking back, I'm very glad that Tom was there to de-emphasize my own skiing inadequacies.  Everyone else in our group was an experienced skier, and although Kathy was also more advanced, she, Tom, and I took a lesson the first day after we arrived in Breckenridge. The next day, we were ready to venture out on our own. The only issue was, in order to make it over to the lift that would take us up to where the easy, green trails were, we had to go up a different chairlift and then down a short but harder blue trail to get to it. Not that the sight of me going down this blue run was any prettier, but poor Tom only skied about three feet at a time before stirring up a cloud of profanity with every tumble he took. It got to a point that there was literally nothing I could do to help and I thought it best to spare him his dignity. So I left.
Kathy and I waited at the bottom of the run for a while until Tom finally arrived. He then proceeded to try to kick off his skis—not a great thing to do because, you know, they were attached to his boots.  And so, Tom ended up on the ground again. Kathy and I just looked at each other with wide eyes, knowing we'd best keep our distance.
Fortunately, Tom didn't give up and we actually had some good runs on some of the more gentle slopes later that day. Yet right as we were beginning to feel comfortable, all three of us experienced a collective brain cramp while in line for the chair lift, rendering us several seconds late moving up to the place where we were to get on. Kathy, being slightly behind Tom and me, somehow ended up splayed out on the seat like Cleopatra, with me sitting on top of her. We miraculously righted ourselves in time, but there was no room on our seat for poor Tom who, crouched in a fetal position, went sliding into the ravine beneath the chair lift. Luckily, he was laughing. We all were.
The next year we went to Utah, but the year after that the couple who planned the trip had a baby, so I ended up going skiing instead with a church singles' group to Steamboat, Colorado. The following year I was back to my original group, but by that time my skiing had improved so that I was no longer that "tag along" who everyone had to wait for because I was always the one falling. I was now keeping up with the best of them.
Oh, so many memories of blue sky ski days and blizzard ski days, of apres ski, of steamy hot tubs on snow-covered decks, laughing at my frozen-solid hair and scrambling in my bathing suit-clad body back indoors, of White Russians, spaghetti dinners, card games, and curling up with a good book by the fire. Those were the days!
Then I met my husband and the days of ski trips out west with that group of friends ended. But luckily my ski adventures didn't—they just looked a little different.  I was fortunate enough to find a man who loved to ski as much as I did. We had been dating for less than two months when I accompanied him out west to eastern Washington for a Christmas week visit to meet his family, but most of the visit would happen at a rented condo at Schweitzer Mountain in Idaho. We arrived at the mountain late in the afternoon after celebrating a belated Christmas that morning, and Rob, his step-dad, brother, and I were eager to hit the slopes. So, on a mountainside lit by artificial light, we endured a frigid evening in order to get in a few runs. After the first run, Rob had a big grin on his face after seeing for himself that I really could ski. And even though the sight of me shushing down the mountainside wasn't a pretty one, his step-dad was also impressed. "She has no form, but she's fearless", Frank said later of my skiing prowess. He also commented to Rob, "She's a keeper!"
And so, that's how I won the hearts of my in-laws, and I can attribute it all to skiing. Since that fateful ski trip to Idaho, Rob and I have since skied in Washington, New Hampshire and Colorado. Colorado, because we moved to Colorado. But the weird thing was, we actually skied more BEFORE we lived in Colorado than we did while living there. That's because we were busy raising three little boys, not to mention the prohibitive cost of lift tickets for a family of five as well as the weekend traffic on I-70. We did manage a few long weekends away in the mountains, babysitters in tote, but it wasn't quite the same as those carefree ski trips of days long past. But that's okay. It may be different, but it's still GOOD.
When we found out that we would be moving back east, one of my biggest regrets about leaving Colorado was that we would be leaving behind some of the best skiing in the world. Which brings me back to last weekend's trip up north. It was with trepidation that we tested Michigan skiing against all the history we have in other places. The bar had been set high and our expectations were low, but I'll let you in on the surprising secret we discovered—Michigan skiing is actually the BEST of all! Does this surprise you? If so, let me explain:
I'd rather ski down a run called "Belle's Bottom" than "Devil's Crotch".
There is actually a ski run out west called "Devil's Crotch"—and it's hellish. It makes that expert slope in North Carolina look like a day at Daytona Beach.
People will be impressed and think you must be an awesome skier when you tell them you ski black runs, even though a black run in the Midwest is in actuality not nearly so impressive. But your friends don't need to know that.
You don't have to worry about getting caught in an avalanche.
You don't have to worry about getting hit by a howitzer setting off said avalanche.
No altitude sickness, which means no dizziness, no headaches, and your skin doesn't feel like Death Valley.
You don't have to work out for months to train for skiing in the Midwest.
I did about ten lunges in my kitchen while making dinner the night before our trip, and I was good to go.
There's less chance of dying from falling off a ski lift because you don't get any more than fifteen feet off the ground.
You don't have to worry about getting chased by a mountain lion or waking a hibernating grizzly.
On the other hand, you may get bitten by a Wolverine.
Old guys run the ski lifts in Michigan, and they tend to blast classic rock from their radios, songs like "Danger Zone" and "Take It Easy".
Try shushing down the slopes with "Billie Jean" stuck in your head and you may find yourself creating a new style of skiing that would make Michael Jackson proud.
There are no high-speed quads, so you're much less likely to get a nasty wind burn, and sunburn isn't an issue as it's cloudy 90% of the time.
Although you won't see any majestic peaks, there's a chance you may catch a glimpse of a Great Lake, especially on one of those rare days when the sun is actually out.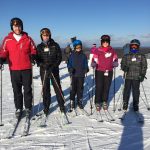 So, you see, even though Michigan may not have big, Breckenridge-style villages with cute shops and dozens of apres-ski bars and restaurants, and maybe the slopes are a little icy, and maybe you can get to the bottom of the longest slope in less than three minutes, but it's alright.
Hey, you have to look at the bright side.