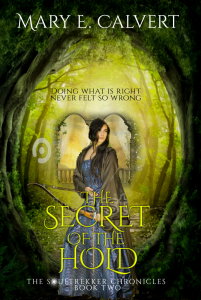 The Secret of the Hold (Book 2)
Doing what is right never felt so wrong.
Synopsis:
In Book Two of The Soultrekker Chronicles, Margaret Ann Shepherd, still under hypnosis with therapist Dr. Susan Renfroe, continues recounting memories of the night she lived an entire other life as the elven maiden, Arwyn, in the beautiful but troubled land of Bensor.
A perilous journey smuggling fugitive dwarves leads Arwyn to the enchanting realm of the elves, where a lukewarm reception by the elven lord, Valdir Velconium, a man plagued with secrets from his past, makes her wonder if she will ever find the place she truly belongs. Yet an unexpected meeting with an intriguing stranger challenges her resolve to aid the Alliance in its upcoming rebellion against the dictator, Draigon, forcing her to choose between two men who seek to win her heart. It is a choice between love and duty that could ultimately destroy Arwyn when Draigon springs a trap of his own.
Or, it could force Arwyn to do the unthinkable.